MPOWER Mentors Summit III
Overview
MPOWER Mentors Summit III Report
The transport industry in India has grown by leaps and bounds in the past decade. Transport operators are therefore finding more opportunities now than ever before. Competition is growing in the sector which means transporters must strive to learn better to do better. This is exactly where Mahindra comes into the picture with its third edition of Mentors Summit where it offers a learning foreground to the Indian transport industry to talk, see, learn and grow. Be it industrial norms, trucking technologies, technical dynamics or driving techniques, the Mentors Summit is a platform that bring s the who's who of the industry under one roof to synchronize the minds of masters and mentors.
To gain an edge over competition in this ever-changing industry, it is imperative for industry veterans and their proteges to have the right tools along with effective business strategies. And therefore, after successful batches of 'MPOWER' - a management development programme for Youth Transport Entrepreneurs, Mahindra's Truck and Bus Division presents the MPOWER MENTORS SUMMIT with IIM-A as the knowledge partner.
With every passing year of Mentors Summit, we try to take the collective learning programme to another level by inviting and MPOWERing mentors of the Indian trucking transport. Each year, the number of participants goes up a notch with a healthy brew of discussions transpiring into learning full of tremendous insights. Mentors Summit III which was a 3-day programme, concluded on 8th April 2017 at IIMA.
Please note: This is an invite only event.
The Third Edition of Mahindra Mentors Summit for the doyens of Indian Trucking Concludes at IIMA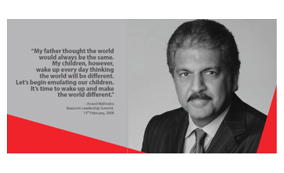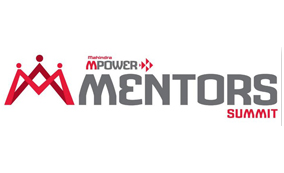 22 Transport Industry veterans. Representing 11 & 10 load segments / applications. Owning nearly 3500 trucks. With combined turnover of over Rs. 1100 crores. Employing over 2600 people - MPOWERed at IIM, Ahmedabad.
On 8th April, 2017, the third edition of the 3 days Mentors Summit program, concluded at IIMA. Featuring the veterans, the mentors (papas, uncles and partners) of MPOWER delegates - all of whom are either our customers or our prospects and are basically the who's who of Indian Transport. The objective of the program, as epitomized by the quote of Mr. Mahindra above, is:
Develop an agenda for further professionalization of Indian Transport through a gathering of industry veterans.
Facilitate the mentors of Indian Transport to guide and enable their protégés to take charge of the business.
In keeping with our philosophy of driving positive change in the lives of our customers and other constituents of road transport ecosystem, MTBD had initiated a unique and pioneering step in this direction in 2014. This was based on the feedback of young MPOWER delegates, who often tell us, "we wish our papa / mentor is brought here to IIMA for a similar course… it will help us implement our learnings of MPOWER even better!" Mahindra MPOWER MENTORS SUMMIT is intended to help industry veterans to take their business to even greater heights by empowering their proteges. Broadly, the agenda of the conclave will revolve around: overview of the transport industry, decision areas and challenges in the trucking sector, managing family business, knowing your leadership style, succession planning and delegation, attracting investments in transport business. This summit of transport veterans was held at IIM, Ahmedabad from 6th April to 8th April 2017. Here's a photo report: Introductions and context setting (self) and welcome address (Prof. Debjit) Overview of trucking sector - G Raghuram (Director of IIM Bangalore) Prof. G Raghuram who is one of the MPOWER program mentors, recently took charge of IIM Bangalore as Director took a session on overview of trucking through video conference. Professor G. Raghuram talking about the "Overview, Decision Areas and Challenges in the Trucking Sector" and the need to professionalize the transport sector and how we (they) as transporters could be a part of this value chain. He stressed that road transport is very critical for us at a macro level and making it an organized sector would only mean better supply chain management and logistics framework, thus inducing more prospects to the Transport Industry.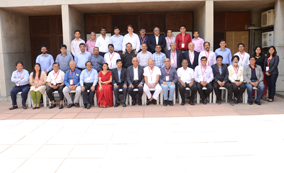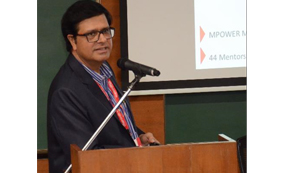 Macro-economic scenario and effect of GST - V.G. Ramakrishnan (Founding Partner and Managing Director, Avanteum Advisor LLP)
V.G. Ramakrishnan shared his views on GST and effects on current scenario which was very relevant to the Mentors
India has the potential to reach a growth rate of 8.0 percent over next 5 years. Demonetization has let to slow down of industry sector but more likely to bounce back in FY 2018.
Increased FDI and Make in India program likely to boost share of Industry altering the GVA composition.
Future outlook: Inflation more likely to be under control and will not have major impact on consumption expenditure over the short to medium term.
The session was crisp and to the point which mentors much appreciated.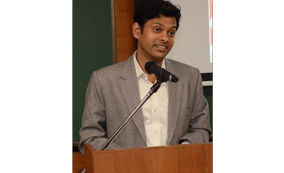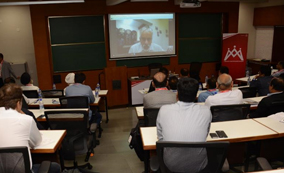 Future Technologies - from BS IV to BS VI - Dr. Venkat Srinivasan
Dr. Venkat leveraged the new media technologies to connect with mentors - video conferencing from Pune to IIM Ahmedabad. Dr. Venkat shared his views on future technologies i.e. BS IV to BS VI. And, reflected upon how technology can play a vital role in transportation business.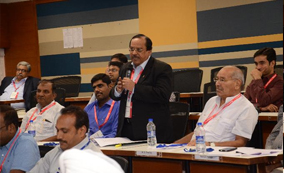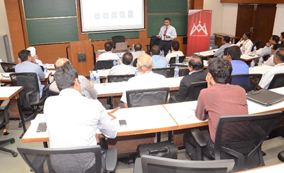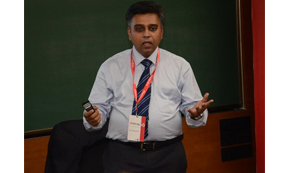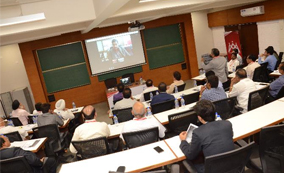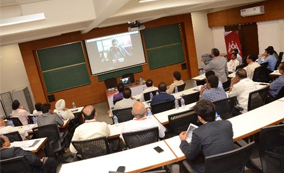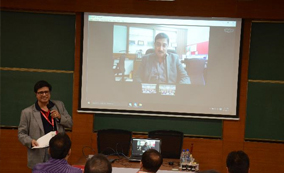 Experience sharing by the mentors
Professor Debjit Roy using the Q&A format as an ice-breaker to conduct the 'experience sharing' session by the mentors that opened animated and healthy discussions. Discussions revolved around 'challenges that a transporter faces in his business'.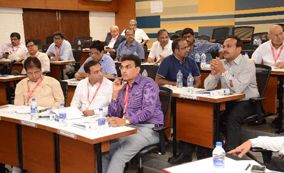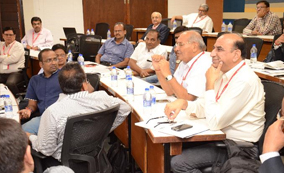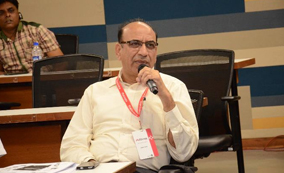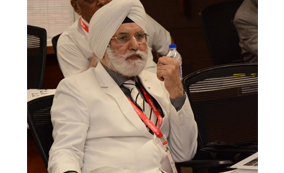 Panel discussions
Panel discussion between the ex-MPOWER delegates and the mentors. The participants share their learnings and experiences post MPOWER and the challenges they faced in implementing these learnings. The discussion was facilitated by Professor Debjit. He prompted the mentors to share their views and provide amicable/win-win solutions to resolve issues faced by their proteges.
The panel included 7 MPOWER delegates:
Rishab Gandhi - Raman Roadways
Mukta Adityaraj Shah - Shree Hatkeshwara Cargo Movers
Rochak Gupta - RCI Logistics Pvt. Ltd.
Mayank Laul - LTC Logistics Private Limited
Nimit Jalan - Sri Roadlines
Younus M - Jeeth Trucks Private Limited and
Shashank Shamsunder Makkar - Embee Road Services Private Ltd.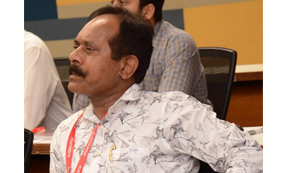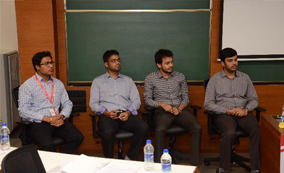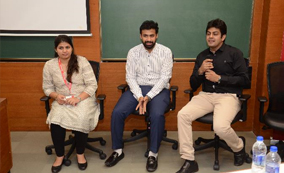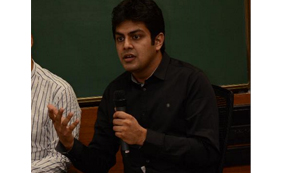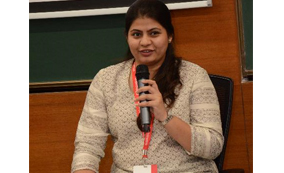 Mr. Nalin Mehta's presence added luster to the networking dinner for mentors where the stalwarts of this industry exchanged their views and learnings, and networked with each other in an informal environ. Mr. Sachin Nijhawan - Business Head - Construction Equipment - Mahindra & Mahindra Limited, also graced the occasion.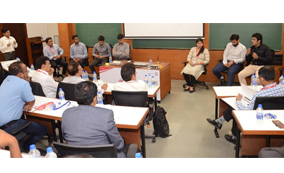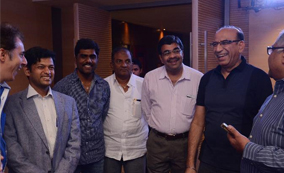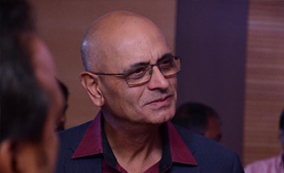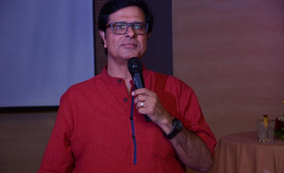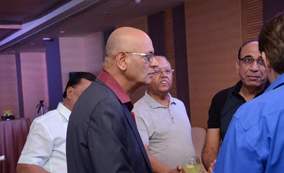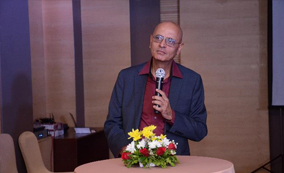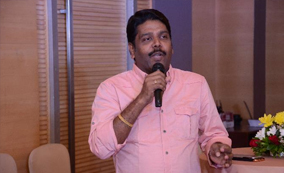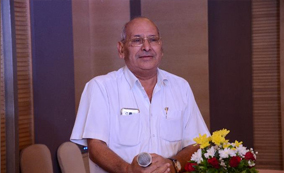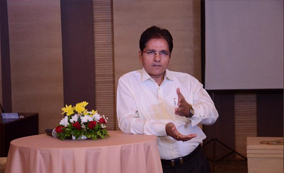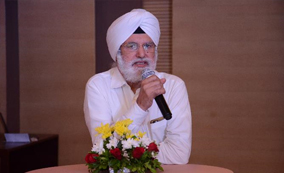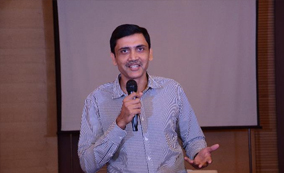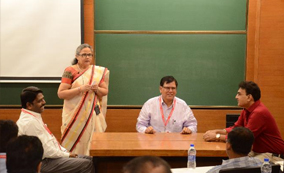 Highlights of the final day - lectures on Leadership and Organisation Behaviour and, IT Enablement followed by a feedback session and valedictory ceremony.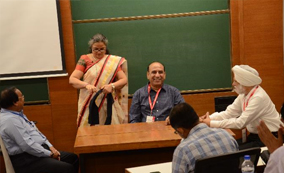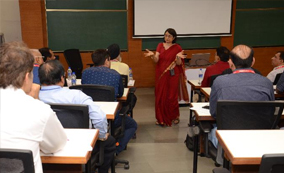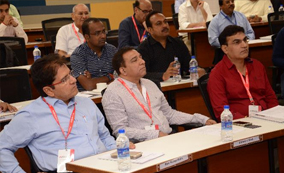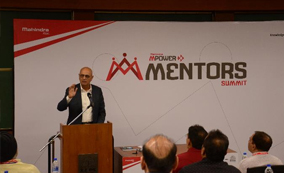 The much-awaited valedictory ceremony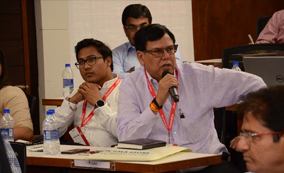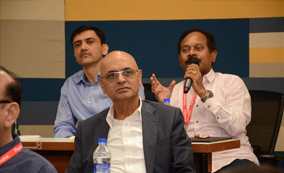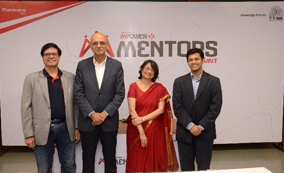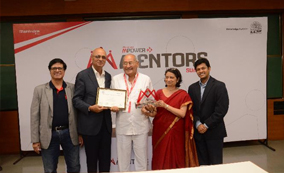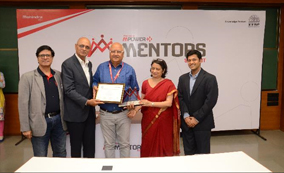 Mentors Summit remains MTBD's pioneering and unique initiative to spread LIGHT OF KNOWLEDGE in Indian Transport ecosystem for fleet owners.