MPOWER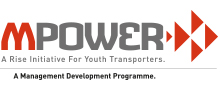 Overview
The Transport industry plays a crucial role in the economic development of India. The government has also identified the significance of the transport sector, throwing open a whole lot of opportunities for expanding business. However, the transporters are facing everyday challenges such as cost versus value focus, asset non-asset based operations, business scope and scale, driver management, information technology and service level and quality management. Adding to these challenges is the ever increasing demand of the customers and price of fuel, toll and manpower.
To empower the transport industry overcome these challenges, Mahindra & Mahindra Ltd. has pioneered a programme called 'MPOWER'. Designed in association with the prestigious IIM Ahmedabad, the programme aims at bringing professionalism to the Trucking industry through youth transport entrepreneurs.
Today, MPOWER has successfully completed fifteen phenomenal batches. The participants of all the fifteen batches believe that their experience has been very rich. And they are confident of taking their family business to the next level by applying all the learning from the MPOWER programme.
The most recent MPOWER was conducted from 14th July to 21st July 2019. It provided an opportunity for participants to not only have a great experience, but also to learn and grow. To know more about the programme, write to us at [email protected]
Participants of MPOWER batch - I (Jan 24 - Feb 05 2013)
Participants of MPOWER batch - II (Aug 03 - Aug 16 2013)
Participants of MPOWER batch - III (Jan 13 - Jan 26 2014)
Participants of MPOWER batch - IV (Jul 14 - Jul 26 2016)
Participants of MPOWER batch - V (Nov 01 - Nov 08 2014)
Participants of MPOWER batch - VI (Feb 26 - Mar 05 2014)
Participants of MPOWER batch - VII (Jul 04 - Jul 11 2015)
Participants of MPOWER batch - VIII (Nov 21 - Nov 28 2015)
Participants of MPOWER batch - IX (Mar 05 - Mar 12 2016)
Participants of MPOWER batch - X (Aug 13 - Aug 20 2016)
Participants of MPOWER batch - XI (Nov 19 - Nov 26 2016)
Participants of MPOWER batch - XII (Feb 06 - Feb 13 2017)
Participants of MPOWER batch - XIII (Aug 11 - Aug 18 2017)
Participants of MPOWER batch - XIV (Jul 14 - Jul 21 2018)