Twelveth Batch
Overview
MPOWER XII Report
The next round (12th edition) of Mahindra MPOWER Management Development Program at IIMA for NextGen transport entrepreneurs (MPOWER XII) is scheduled for 6th to 13th February 2017.
The 7-day program is a Management course specifically designed for young transport entrepreneurs who choose to take the baton of family owned business ahead. The program, features the trade-mark case study approach of pedagogy of IIM, Ahmedabad covering a wide variety of subjects like, Business Planning, Market & Segments, HR Practice, Service Quality, Finance, Supply Chain, IT, Industry Focus sessions, Legal and Regulatory.
The Mahindra MPOWER Management Development Program at IIMA accepts application only through invitation. For more information please contact [email protected]
MPOWER XII: 23 Participants from 17 Cities, 15 Load Segments/ Applications with Combined Turnover of Over Rs.2100 Crore, Employing More Than 4900 People, Owning Over 3600 Trucks, 'MPOWER-ed' at IIM, Ahmedabad!
On Monday, the 6th of February, 2017, just after the glittering ceremony of 6th Edition of Mahindra Transport Excellence Awards (MTEA) at Delhi, the 12th batch of MPOWER - the Management Development Program for the NextGen Youth Transport Entrepreneurs - was launched at the Indian Institute of Management, Ahmedabad (IIMA). MPOWER XII concluded on 13th February, 2017. This batch had 23 participants. Like previous 2 editions, this edition was spread over a period of 8 days based on feedback from delegates to make it more compact and with the objective of making it more frugal.
As you would recall, the guiding philosophy of the program is empowering the next generation of India's transporters/ fleet owners to "Take forward their family business with their OWN vision", as propounded by Mr. Anand Mahindra while launching the program on the sidelines of the Mahindra Transport Excellence Awards ceremony on 9th Jan '13. Speaking on the same occasion to media, Mr. Nalin Mehta had also stressed that MTBL wants to "walk the talk" that we initiated when we urged the NextGen of transporters to join their 'Papa ka Business' in our TV-led mass media campaign more than a year ago. MPOWER program is growing from strength to strength as our signature initiative in Indian transport industry. In terms of numbers, with this batch we have involved 315 NextGen transporters who together own over 63,900 trucks (and utilize at least 50% of this no. in addition from market), with a combined turnover of INR. 27,000 Crores employing over 71,000 people.
For MPOWER XII, 23 young transport entrepreneurs belonging to some of the finest transport companies of India were chosen by invitation. They checked-in for the 8-days course which is aimed at professionalizing the Indian transport sector in the long run. A course that has been specifically designed keeping the transport sector issues in focus. Seven highly accomplished faculty members of IIMA are running the course that covers subjects like, PROFESSIONALISM, BUSINESS PLANNING, MARKET & SEGMENTS, HR PRACTICES, SERVICE QUALITY, FINANCIAL MANAGEMENT & ACCOUNTING, SUPPLY CHAIN MANAGEMENT, LEGAL AND REGULATORY, INFORMATION TECHNOLOGY, INDUSTRY FOCUSSED SESSIONS.
Snapshot of the MPOWER XII: 23 Participants; Ave age 30 years; From 16 Cities, 15 Load Segments/ Applications (Dry Bulk, Parcel, FTL, LTL, Liquid Bulk, EXIM Containers, FMCG, Consumer Durables, Electronics, ODC & Project Cargo, Multi-modal, Finished Vehicles Transportation, Tire Transportation, Sugarcane Transportation, Cold Chain Logistic, Warehousing); Cumulative turnover of INR 2,100 Crores; owning over 4,900 trucks.
Prominent Customers of MPOWER XII
| Zone | Mr / Ms | Name of Delegates | Company Name |
| --- | --- | --- | --- |
| West | Mr. | Jehaan Adil Kotwal | JFK Transport |
| West | Mr. | Sidhant Sunil Bamb | Axis Carriers and logistics Ltd |
| East | Mr. | Harmeet Singh Sohi | India Carriers Private Limited |
| West | Mr. | Suyashh Gupta | Best Roadways Limited |
| North | Mr. | Rishabh Jain | Kataria Carriers |
| North | Mr. | Gagan Pruthi | Sushila Transport |
| East | Mr. | Anshuman Banka | Prism Logistics Private Limited |
| South | Mr. | Amit Sharma | Bharatiya Roadlines Private Limited |
| North | Mr. | Bhaskar Gogoi | Ritu Enterprises |
| West | Mr. | Omkar B. Agashe | Chintamani Transport Service |
| South | Mr. | M Vijay Kumar | Transin Logistics |
| West | Mr. | Neha Vora | Fast Track Shipping & Logistics Services |
| North | Mr. | Abhishek Agarwal | Abhishek Transport Company |
On 13th February, 2017 – The Final Day of MPOWER XII – Program, participants shared their views on Rivigo Transport Company. They also shared their solutions to the challenges in transport industry and how post MPOWER they can change in their company and process. IIM Profs and Mahindra leadership team gave away the MPOWER certificate to all the participants on successful completion of MPOWER XII.
Please find below the photo report of the inaugural and valedictory session at IIMA.
Youth Transport Delegates being welcomed while checking into the IMDC Campus at IIMA
Highlights of Inaugural Session – Welcoming Address and Introductions
The day started with 2 participants from previous batches sharing their experience and learning of MPOWER with the current participants. Mr. Mahesh Panjawani, Proprietor - Maheshwari Transport from Bhopal and Mr. Rishab Gandhi, Director- Raman Roadways from Mumbai, shared their experience with the batch.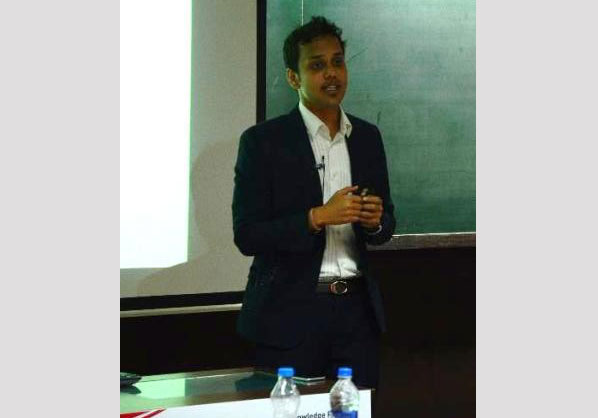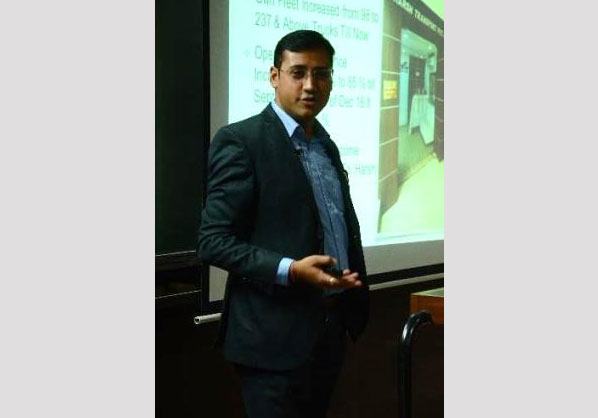 The past 11 batches of MPOWER were huge successes not only in terms of an emotional connect with the NextGen of transporters but also in terms of bringing our business and offerings in their focus and helping start a business relation with many of the people who attended. This successful engagement has motivated us to reinvest in driving a positive change in the transport ecosystem while nurturing our business interest. All these initiatives will help us connect with various constituents of the Indian transport ecosystem at both the rational and emotional levels, which can be leveraged to build a strong market presence for Mahindra Truck and Bus Division.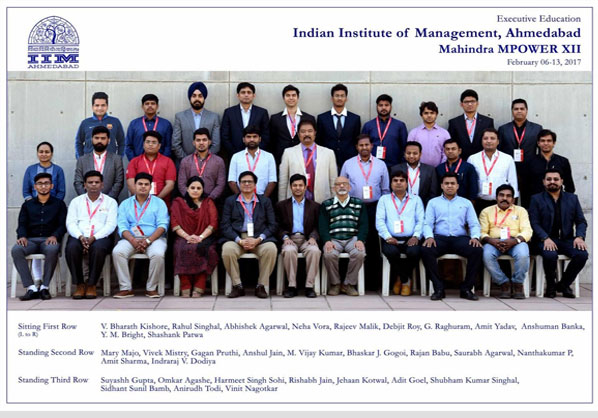 Right Brain Thinking
The right brain awakening workshop is a very integral part of the MPOWER Program. It is designed to encourage creativity, and use of the right brain. It brings the participants out of their routines, away from the grind and gets them to tap into their creative wellspring. And what better than Mallika Sarabhai's Darpana Academy to conduct this workshop? Participants enjoyed the creative acts that help them connect with their day to day issues related to management and focusing on business.
Motivational Speaker
Mahindra Organized motivational speaker Mr. Vijay Batra who encouraged the participants to be positive and stay active with his philosophy of "Switch On".
Truck Familiarization
MTBD had organized a special guest lecture with Mr. Sunil Deshmukh talking on 'Truck Familiarization'. The lecture starts right from the basics and guides the participants for every small detail that they would need to know for day to day dealings with their service team and drivers. This lecture was followed a small demo of BLAZO truck.
Final Day – 13th February, 2016
The proceedings began with two groups of 11 participants each presenting their integrated case study. Each Group had only 15 mins. to present their case.
Participants also presented a case on RIVIGO and the Learnings at MPOWER
Post all the group presentations, Prof. Debjit and Prof. Raghuram shared their view on each group's topic and presentations.
The MPOWER batch XII – had witnessed Ex-MPOWER participants sharing their experience on 6th Feb, 2017, and on 13th Feb, 2017. They could relate to it and found their learning motivational and relevant to their business.
Like all batches, all the participants were asked to share their feedback on how we can improve MPOWER course. All the feedback and comments were well noted by IIM professors and Mahindra Team.
Mr. Rajeev Malik shared perspective on the program- why Mahindra instituted this engagement and the way forward.
The much-awaited valedictory started, giving MPOWER certificates to all the 23 participants.
With 315 MPOWERians already having gone through this customized program from IIMA, we can confidently say that MTBD has made significant progress in driving positive change in the transport ecosystem. As a collateral advantage, our brand is in strong focus with these important customers and key opinion leaders of trucking business. We would urge the field team to take maximum advantage of this important, pioneering and unique engagement tool of MTBD.