2015 Awards Highlights
Awards Night
Photo Gallery 1
Photo Gallery 2
Three "Super Laxmis" make their fathers proud truck owners; Ramcharan Yadav becomes Chalak Se Malak; Poornima Vijay Patil wins both Lady and Youth Transport Personality Award; First ever Academic book, Trucking Business: Cases & Concepts by IIMA faculty, launched; Padmabhushan R. Tyagarajan, Founder Chairman, Shriram Group awarded Lifetime Achievement Award!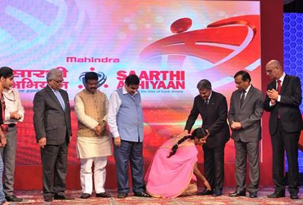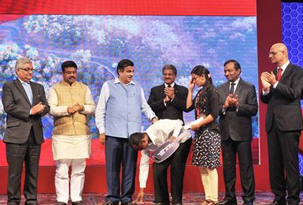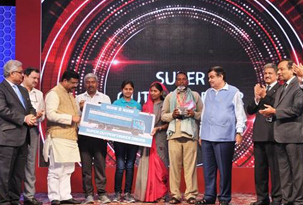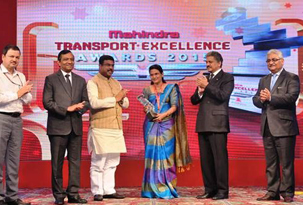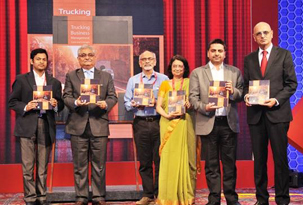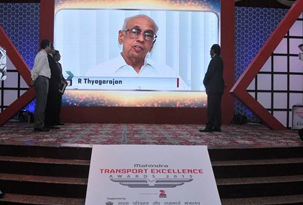 The 5th Edition of Mahindra Transport Excellence Awards program on the 4th of March'16 at Hotel Ashok, New Delhi, where the who's who of Indian Road Transport Sector gathered and honored various Outperformers of Indian Transport.
Mahindra Transport Excellence Awards recognize and reward various stakeholders in the trucking industry on parameters like Outperformance, Excellence, Innovation and Change Leadership, judged against the backdrop of RISE pillars - Accepting No Limits, Alternative Thinking and Driving Positive Change. The initiative, with its inclusive nature, has set for itself high standards.
The 5th edition of Awards saw many innovative categories. Here are the innovations:
For Haulage Fleet owners segment, the Awards were tailored around Best Growth Strategies, Best Fleet Management Practices and Best Driver Management Practices
Special focus was given to the Tipper segment with Construction and Mining as sub-categories
Driver Awards were based on Knowledge and Skill testing through driver camps at various transport hubs across the country to include Medical test, Traffic Rule Test, Psychometric and Psychomotor tests along with interviews with screening and Expert Jury
Recognized new players who made their mark in short span of time through their unique vision and drive were awarded the Best Emerging Transport Business category award
Taking engagement of education of the girl child one step further, the Essay Competition for the 1108 Mahindra Saarthi Abhiyaan scholarship awardees took place
The popularity and equity of the awards has further gone up amongst the constituents of the transport community with significantly higher entries collected - 4674 entries (with multiple case studies for different categories) - 38% more than last year!
Ministry of Road Transport & Highways have continued to support Mahindra Transport Excellence Awards program for the third consecutive year.
Besides higher numbers, the entries also exhibited better quality, more interesting stories and stronger pitch, giving all a feeling that the Transport excellence Awards have come of age.
Highlights of the Awards Ceremony
Mr. Abhay Damle, Joint Secretary, Ministry of Road Transport and Highways, Govt. of India, chaired the Panel Discussion on a very pertinent topic - Making Truck Driving an Attractive Profession- Tackling Driver Shortage. The Panel discussion brought together the who's who of the Transport Industry.


The Eminent members of the panel were (L to R) Mr. Dipak Dash, Asst Editor, Times of India; Dr. Patanjali Nayar, Regional Advisor, World Health Organization; Mr. Rajan Wadhera, President - Truck and Power Train Division, Head - Mahindra Research Valley and Member - Group Executive Board; Mr. Abhay Damle, Joint Secretary, Ministry of Road Transport & Highways; Prof G Raghuram, Professor and Dean of Faculty, IIM, Ahmedabad; Mr. Piyush Tewari, Founder & CEO, SaveLife Foundation and Mr. Gaurav Agarwal, Amicus Curiae, Supreme Court of India.
The audience comprising of prominent Truck Fleets Owners, Transporters and Logistics Company heads and professionals, Commercial Vehicle Financiers, Dealers of Commercial Vehicles, and Senior Delegates from Transport Sector, Faculty members from IIM, Ahmedabad, and delegates from Mahindra Group and heads of various agencies and select media delegates took immense interest and relished the proceedings.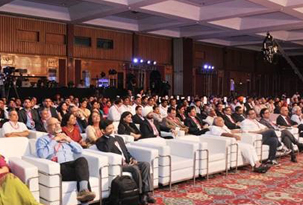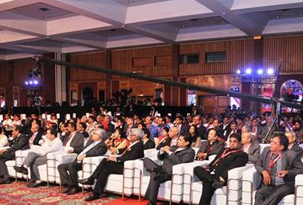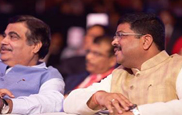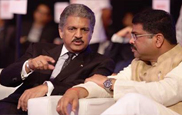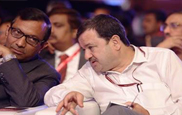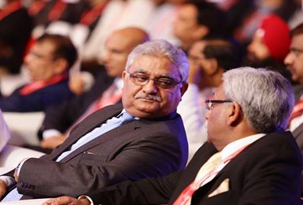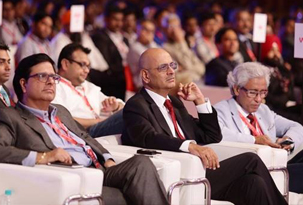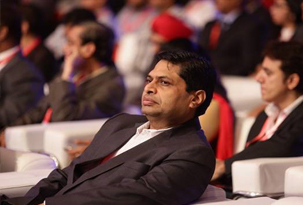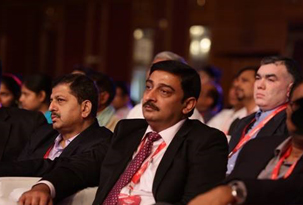 Immediately after the formal inauguration of the program with lamp lighting, Mr. Nalin Mehta, CEO, MTBD, presented the report card of the Awards program, reaffirming our commitment to continue, strengthen and make more relevant, this RISE initiative. He shared with the audience, the fact that the Awards program was becoming bigger and better with every passing year and was attracting better quality entries, which is a heartening news. Mr. Amiya Swaroop, Sr. Manager - Advisory, Ernst & Young provided the certification for fairness and transparency from the stage.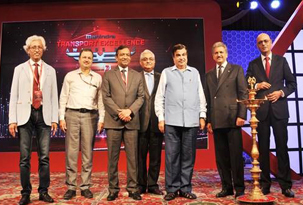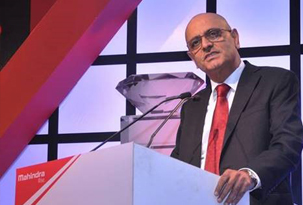 The accomplished acapella troupe, RAAGA TRIPPIN delivered a scintillating performance singing and dancing to the rhythms of RISE Anthem.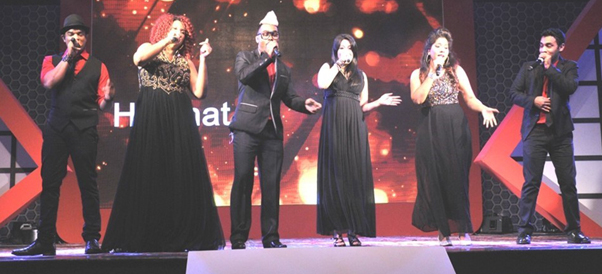 Mr. Anand Mahindra, our Chairman and Managing Director, expressed his pleasure and in an epoch making speech, stated that over these five years, MTBD has made great efforts to make the awards more inclusive and more meaningful. He recounted the crucial role played by the Road Transport Sector. The fact that it traverses the length and breadth of India's 4.7 million kilometers of roads; it serves the needs of 1.1 billion people - over 90 percent of India's population; it covers the country from North to South, from East to West; it links village to city, farm to factory, backward regions to the mainstream; it gives employment to 8 million people; it contributes almost 5 percent of the nation's GDP. But even more important, it is the silken web that connects Indians to each other. And the fact that, after Bollywood, it is probably the most effective agent of National integration that we have today.
While talking about the Essay completion for Saarthi Abhiyaan awardees, and the fact that supporting daughter's education is the greatest gift that a father can give, he referred three winner truck driver's daughters as 'Super Laxmis' who changed their father's lives by giving them the opportunity to own a brand new Mahindra BLAZO, with a bit of help from Mahindra Truck and Bus and Mahindra Finance.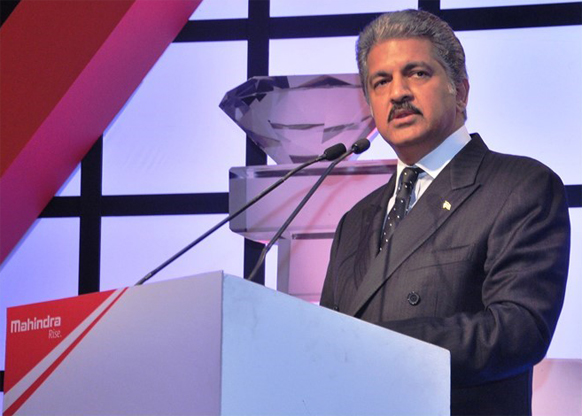 Followed by Mr. Mahindra's address, 8 Saarthi Abhiyaan Essay Competition finalist were felicitated and top 3 winners won a chance to gift their father an opportunity to be owner of Mahindra BLAZO 25 T truck. Winning daughters were presented BLAZO-key cut-outs along with their fathers. MTBD will pick up the down payment and on-roading cost for these trucks with easy finance options by Mahindra Finance.
Followed by Mr. Mahindra's address, Hon. Road Transport & Highways Minister - Shri. Nitin J Gadkari, who presided over this event said that his ministry has supported, applauded the Mahindra CSR initiative, Saarthi Abhiyaan for Driver Girl Child Education and the fact that besides scholarship, the truck drivers were given an opportunity to own a brand new truck has set a new example. He then went on to elaborate the ambitions plans of his ministry and its vital role in India's economy - like Rs. 4 lakhs Crores contribution to economy amounting to 5% of GDP and hundreds of thousands of people being employed through this sector. He highlighted the fact that there is a shortage of drivers to the extent of 22% and urged Mahindra to explore and support the Govt. in tiding over this. He also reaffirmed that while the Government's priority is to focus firstly on Waterways, then Railways and then on Highways, his resolve is to scale up the national highway infrastructure from current 96,000 kms to 200,000 kms in the short run. Net net, he portrayed that the Road Transport Sector is in for a big boost and repeatedly applauded Mahindra's effort towards the Truck Driver community symbolized by the Mahindra Saarthi Abhiyaan.
Another highlight was the Safety Awards instituted at the behest of Ministry of Road Transport and Highways (MoRTH) for the promoting safe driving or in fact safe transportation across various terrains and climate. And prominent fleet owners like Capital Roadlines; V-Trans (India) Ltd.; Premier Transport Ltd bagged these most coveted awards.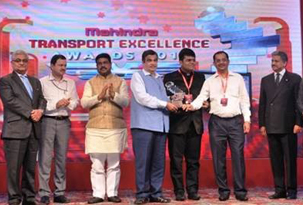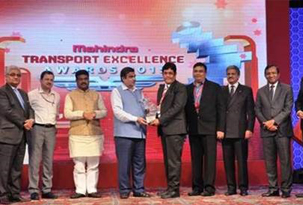 Prominent CV Financiers like Cholamandalam and ICICI Bank took away the top honors in their category.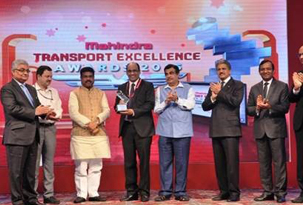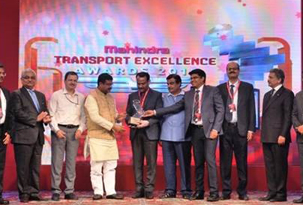 Flora Hotel from West won the 'national winner' awards in Highway Dhaba category
And then came the moment of winning a brand new Mahindra Blazo25 truck by Ramcharan Yadav being the "Super Outperformer Driver of the year". As a responsible driver and family man who not only saved many lives by on time delivery of Oxygen cylinders to a hospital but ensured the education of his children and successfully passing each step of stringent Driver Jury process comprising of Physhomotor & Psychometric tests, Traffic Rules and Medical tests. This was really a very emotional moment for him and his family members on stage.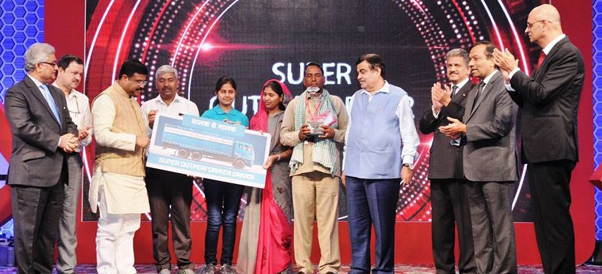 6 winners amongst Fleet owners haulage for focus awards and 4 in Tipper category for mining and construction were:
Large Fleet Owner Category - Best Growth Strategies - SSPT Logistics; Best Fleet Management Practices - Globe Ecologistics Pvt. Ltd.
Best Driver Management Practices -Globe Ecologistics Pvt. Ltd.
Medium Fleet Owner Category - Best Growth Strategies Coldrush Logistics Pvt. Ltd. - ; Best Fleet Management - Sankari Roadways. Best Driver Management Practices - Reema Transport Pvt. Ltd.
Tipper Segment - Construction - Large Fleet Owner Category -BSCPL Infrastructure Ltd.; Medium Fleet Owner Category - R. K. Construction
Mining - Large Fleet Owner Category -Sew Infrastructure Ltd.; Medium Fleet Owner Category - Prasanna Blue Metal
Thereafter, Mr. Rajan Wadhera, President - Truck and Power Train Division, Head - Mahindra Research Valley and Member - Group Executive Board, highlighted MTBD's contributions towards knowledge power that is doing wonders to the transporters in both their personal and professional lives through the initiatives under the umbrella of LIGHT OF KNOWLEDGE comprising of MPOWER, WAR ROOM and MENTORS SUMMIT in conjunction with the prestigious, Indian Institute of Management, Ahmedabad. The latest initiative in the form of the first ever academic book on trucking, 'Trucking Business - Cases and Concepts' crated by eminent faculty of IIM-A and supported by Mahindra Truck and Bus, was launched by Mr. Rajan Wadhera jointly with IIM-A Faculty members, viz., Prof. G Raghuram, Prof Rekha Jain and Prof. Debjit Roy, who is also the Program Coordinator for MPOWER and related initiatives and Mr. Hemant Jha, Manager - Product Development, McGrawHill Education.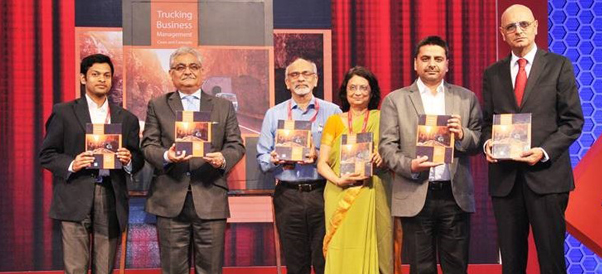 Women power making huge in-roads in the male dominant road transport industry. It's was a double whammy for Ms. Poornima Vijay Patil of Neha Transport who won both "Youth Transport Personality of the year" and "Lady Transport Personality of the year" Award.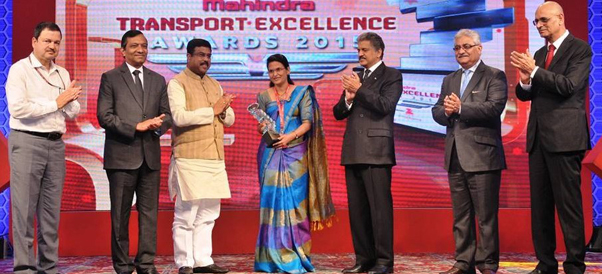 National Winner of the Emerging Fleet Owner Award was given to RKC Transports & Co.
Mr. Rajan Wadhera, in his Concluding Address, highlighted the theme of LIFETIME ACHIEVEMENT AWARD and invited Dr. Pawan Goenka, Executive Director, Mahindra & Mahindra Ltd, and Group President, Automotive & Farm Sectors, Mahindra & Mahindra Ltd., to read the citation and announce the name of Mr. R Thyagarajan, Founder and Chairman of Shriram Group, the Lifetime Achievement Awarde. Mr. Umesh Revankar, MD & CEO, Shriram Transport Finance Co. Ltd received the Award on behalf of Mr. Thyagarajan, who in his video message, applauded Mahindra Group for its rigor, thoroughness, neutrality and transparency in this exercise and in its general approach.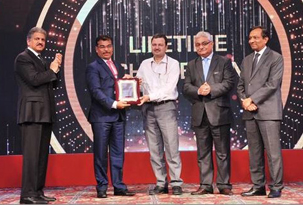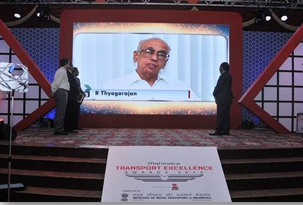 Mr. Dharmendra Pradhan, Hon Union Minister for Petroleum & Natural Gas, while sharing his thoughts applauded Mahindra for its untiring efforts for the betterment of the communities, while appreciating its products and services also.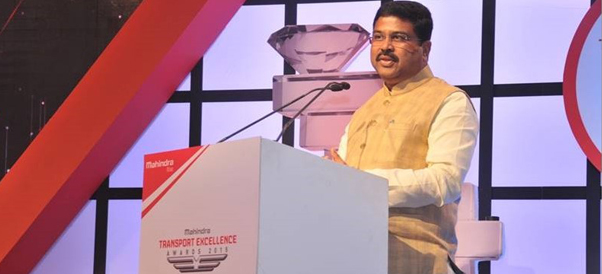 He recounted the fact that he owns and has gifted a Bolero to his parents and vouches for the Mahindra quality and durability. He was also amazed by the fact that Mahindra Truck and Bus decided to help Truck drivers become owners as a reward for an emotive essay written by their daughters!
And then, the final RISE Moment!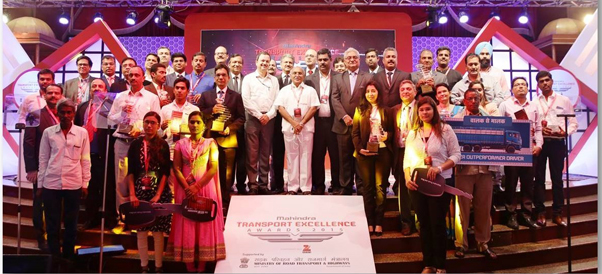 MTBD's signature brand property aimed at honoring the unsung heroes of road transport, Mahindra Transport Excellence Awards will continue to strengthen the brand while delivering respect, self-esteem and recognitions to multiple stakeholders of the Indian Road Transport Ecosystem.